Links to other Benford dory builders' sites

There's a nice contrast in building approaches in the sites linked above. The approach of Greg, the Willow builder, is to build with permanent frames and bulkheads to form the hull shape, whereas Easy Go, Dan from Hestur and Gerry of the Boat Barn all use the temporary framing method. I have to say, I favour the permanent frame approach of Greg, and currently intend to do the same.

Powered by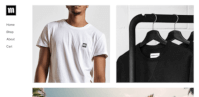 Create your own unique website with customizable templates.