The Miss Molly I Adventures - Part 5

This is the fifth part of the story of our adventures with the junk-rigged, ferro-cement boat Miss Molly I. The complete story is slowly but surely developing into several chapters and will take a while to tell, so will gradually unfold as and when I get time to add to it. From my point of view, it was a great time and I hope to tell the story in its fullness to try to do it justice.
Crescent City to Half Moon Bay

Powered by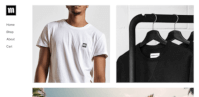 Create your own unique website with customizable templates.